Thanks to a little warmer weather we were able to get out for a nice 21 mile ride last Saturday. One of the things I love about covering the area by bike is you get a much more up close and personal view of homes, neighborhoods, parks etc. than you do by car. The push in recent years by Carmel, Westfield, Noblesville, Fishers and Indianapolis to create great trails connecting them to each other gives us the opportunity to see all the new things going on, up close and personal.
Riding along the Monon in Carmel, the amount of construction is amazing! It is being widened from Main Street to City Center to accommodate the large number of people who take advantage of the trail. The new Sun King Distillery is taking shape and is supposed to be open this Spring. Anthony's Chophouse is well underway.
Many of you may know that I purchased a new ebike last May from Pedego Bikes in Carmel. I LOVE this bike! It has what they call, pedal assist, which while you pedal, it makes it easier. You don't have to worry about hills and head winds any longer, you can simply ride for fun like when you were a kid! Pedego rents them too, so you should check them out if you haven't already.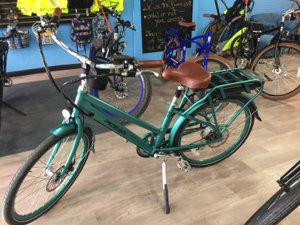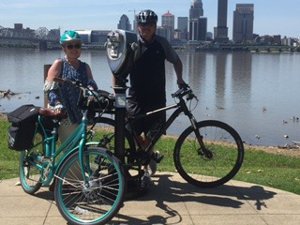 Isn't it pretty!! If you would like to know more about the trails in the area, David is very knowledgeable . I know many people consider the walk-ability and trails when considering a move to a new area, so if you have questions , don't hesitate to reach out!